Unilion Annual Thematic Event in Brussels
Sustainable Development Goals and Universities: Quo vadis?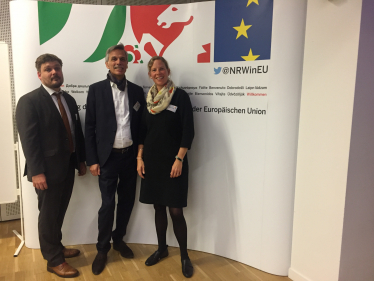 On 15 October 2019, UnILiON organised a political debate followed by a panel discussion on embedding universities into the fabric of society to achieve Sustainable Development Goals (SDGs). The University of Münster hosted this years event of the network in the representation of North Rhine-Westphalia in Brussel.
SDGs will play a key role in the implementation of the next seven-year EU budget. The EU has committed to implement SDGs both in its internal and external policies. In the 2030 Agenda for Sustainable Development, it is stated that 'recognising that the dignity of the human person is fundamental, we wish to see the Goals and targets met for all nations and peoples and for all segments of society'. With this statement in mind, the aim of the event was to explore, present and debate the role of universities in delivering SDGs to society. Around 150 guests followed the invitation and the debate and panel discussion was followed by extensive networking afterwards.
About UnILIiON: UnILiON is an informal network of over 40 liaison offices representing more than 140 excellent universities based in Europe, Japan and Russia. The network represents an arena of exchange, where the participants share information, create collaboration and act as information multipliers towards the represented organisations.