University of Muenster opens Brussels office
WWU Centre for Europe welcomes 100 guests for opening celebration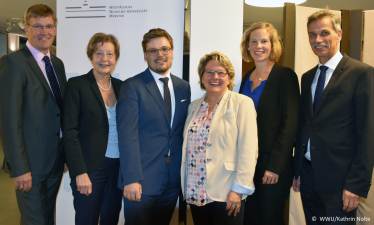 On Monday (26th September 2016) representatives of the University of Muenster (WWU) – including members of the rectorate and of the administration as well as scientists and graduate students of various faculties – and representatives of the state of North Rhine-Westphalia celebrated the opening of the new office of the "WWU Centre for Europe" in Brussels. Welcoming a 100 guests Professor Ursula Nelles, rector of the WWU, emphasised: "I am happy and proud that for the first time I am able to welcome guests and members of the University of Muenster outside of the city of Muenster". The North Rhine-Westphalian Minister of Science, Svenja Schulze, congratulated the WWU to its newly opened liaison office, which serves as a contact point for the university in Brussels. Minister Schulze highlighted: "The University of Muenster is a 'flagship' in the university landscape of North Rhine-Westphalia."
The new office is located in the Representation of the State North Rhine-Westphalia to the EU; right in the heart of the European quarter, close to the European institutions. Its aim is to consolidate the numerous European activities of the WWU and its scientists, and to focus on initiating new research projects on a European level. Professor Jörg Becker, spokesperson of the board of the WWU Centre for Europe, emphasised the importance of an office in Brussels: "We are committed to our European research activities. Our Brussels office serves as a contact point for WWU scientists and our European partners. With the WWU Centre for Europe we are the first German university who has a permanent representative in Brussels." The office is headed by its managing director, Dr Roman Walega, whose task is to raise the profile of the WWU in Brussels and to build a network in order to provide the university with a competitive edge when it comes to EU funding opportunities: "We are passionate about showing what we have to offer as a university and to raise awareness of the excellent research and teaching that is provided by the WWU," said Roman Walega. With its coordinator Dr Katrin Bergener the WWU Centre for Europe has also a representative in Muenster. She focuses on bringing stakeholders together at the WWU.
After the opening speeches, Professor Detlef Pollack from the Cluster of Excellence "Religion and Politics" presented the first insights into cutting edge research conducted at WWU. His key note speech "Islam in Europe: the case of Germany" highlighted the latest empirical findings of a comprehensive survey about integration, religiousness, and fundamentalism in Germany.
Earlier in the afternoon, twelve young scientists of WWU participated in a European funding information event, organised by the WWU Centre for Europe.  Ms Mareike Schmitt of the European liaison office of the German research organisations (KOWI) had numerous tips and insights on how to find your way in EU framework programmes and about EU funding opportunities.